SAM tracks student movement across postsecondary institutions to provide a more complete picture of undergraduate student progress and completion within the higher education system.
Learn more »
Student Achievement Measure (SAM)
National First-time, Full-time Bachelor's Model
Data are current as of 2021, reflecting the Fall 2015 Cohort
Graduated: Reporting institution
Transferred & Graduated: Other Institution
Enrolled: Reporting institution
Transferred & Enrolled: Other Institution
Six Year Outcomes
*Fall 2014 First-time Full-time Cohort
*Not an actual IPEDS category
*This is an example of one institution that participates in SAM
What does SAM tell us about the national picture of student completion?
67% of full-time bachelor's-seeking students who started in Fall 2012 graduated after 6 years
55% of first-time full-time students completed their bachelor's degree at the institution where they started
An additional 12% completed their degree after transferring to another institution
The federal graduation rate only reports outcomes for students seeking bachelor's degrees who start and finish at the same institution
Nearly half a million successful students aren't counted by the federal graduation rate!
Furthermore … 10% are still enrolled and on track to complete
Want to benchmark SAM data?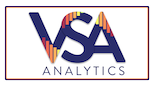 VSA Analytics offers exclusive access to institutions to compare institutional data on SAM and 25 other key performance indicators. Benchmark your peers from a dataset aggregated from 4 data sources–IPEDS, NSF, SAM, and the College Scorecard which contains data on over 4,400 institutions.